Art of Discussion
Art of Discussion is a forum for a free, in-depth dialogue on the presented performances. We want to discuss, analyse, and criticize them, share our thoughts and doubts.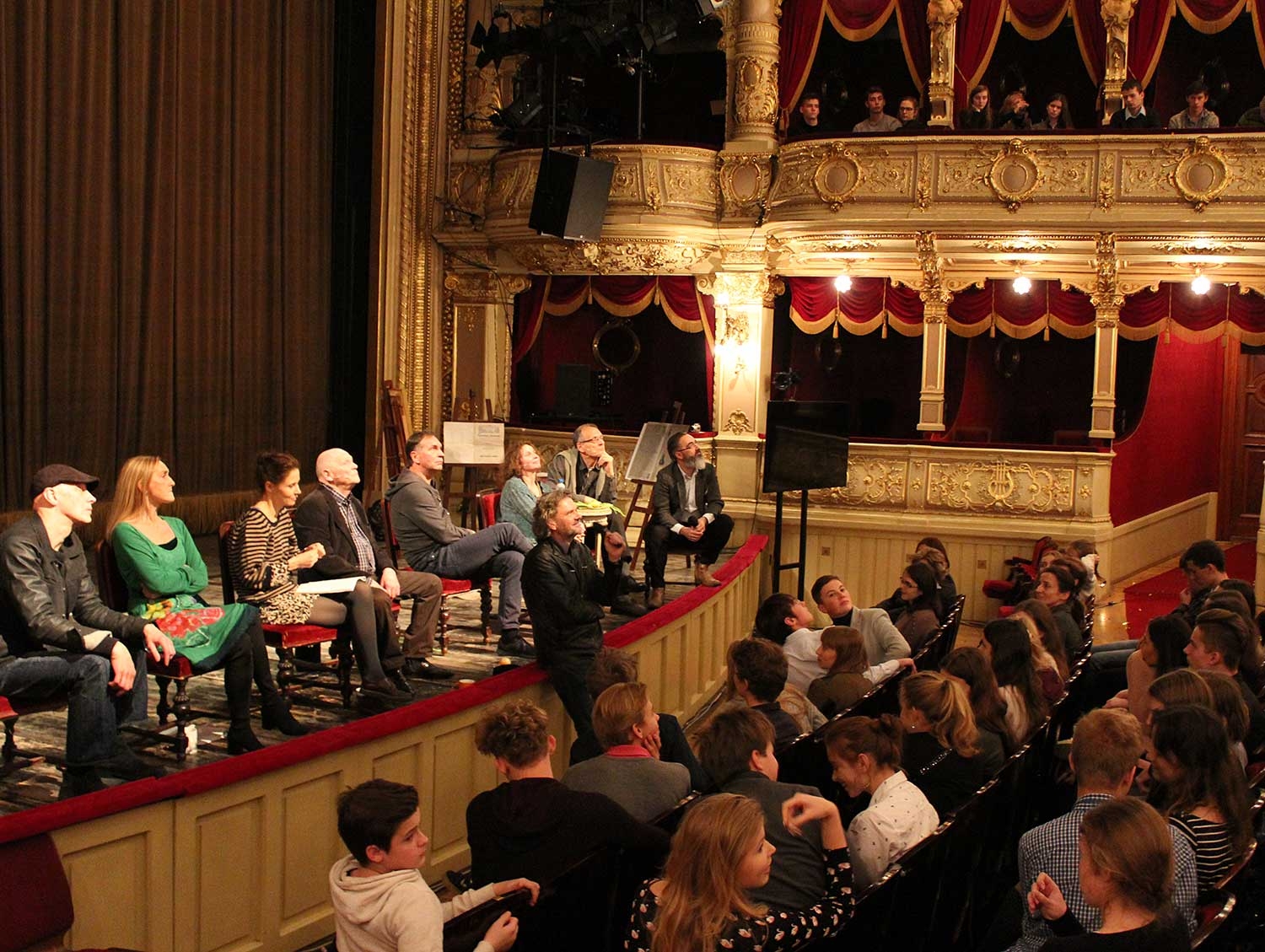 We wish to be closer to the viewer, to share with him or her the details of the often complicated and tricky creative process that leads to the premiere of a play. At the same time, we are very interested in receiving feedback from the audience, in confronting what was conceived in the artist's mind with the way it was processed by the audience. We also want – on the basis of the performances – to broaden the context of this conversation as much as possible, to look at the plays as an example of the development of art, its perception in our changing times, as well as today's inter-relationships, e.g. between culture and politics. We believe that this type of exchange of ideas can be fascinating and inspiring both for the artists and viewers.
The meetings in the series Art of Discussion follow two directions. One is Za i przeciw-historie [Pro and Con-Stories] supervised by Dr Diana Poskuty-Włodek – conversations during which theatre's archival performances constitute the source material. The second approach (taken by Jakub Roszkowski, the literary director of the theatre) is an attempt to discuss the latest premieres of the Słowacki Theatre. These meetings are always held right after the performance – to try to capture 'on the spot' what happened on the stage, and what transpired in the minds of the audience.
To some kind of LIBERATION!
guests: Radosław Rychcik, Prof. Grzegorz Niziołek and Prof. Piotr Augustyniak
Wyspiański's Code – Sanctity or the Curse of Mythology?
guests: Prof. Andrzej Romanowski and Prof. Franciszek Ziejka
Playing with Beads
Guests: Małgorzata Warsicka, Karol Nepelski and the actors of the play Glass Beads. Game. Reconnaissance
The 21st Century – Experimental Stage
guests: Prof. Jan Sowa, Dr Marcin Kościelniak, Bartosz Szydłowski
As Years Go By, As Days Go By
Guest: Agnieszka Glińska and the actors of the play As Years Go By, As Days Go By [Where Is Pepi].
Curse and other Cursed Performances. On Censorship in Theatre
guests: Prof. Grzegorz Niziołek and Dr Marcin Kościelniak
Revenge!
guests: Anna Augustynowicz, Prof. Włodzimierz Szturc and Prof. Piotr Augustyniak
Let Me See Your Soul Burn!
Guest: Prof. Ewa Miodońska-Brookes