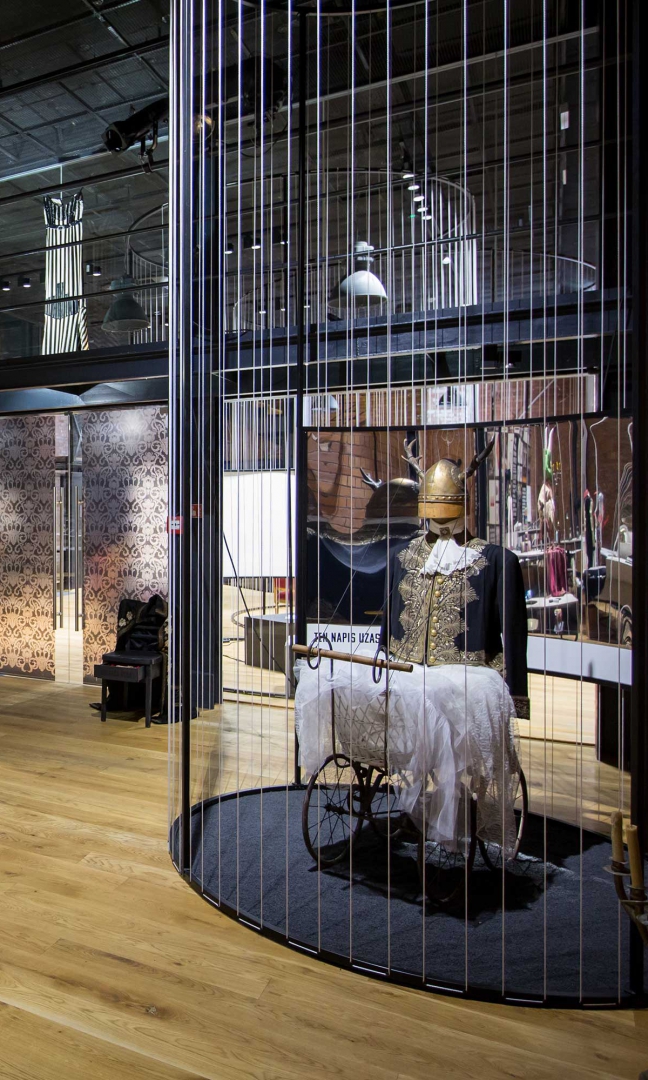 Idea
The House of Crafts provides a unique space which houses an exhibition devoted to theatre craftsmanship and the Juliusz Słowacki Theatre, and a place where workshops, temporary exhibitions and cultural meetings are held.
The House of Crafts is a renovated storehouse of staging instruments for the Juliusz Słowacki Theatre in Krakow, located at no. 3 Radziwiłłowska Street, which currently houses a costume storeroom (underground), a rehearsal room (1st floor), sewing studios of the theatre (2nd floor) and a space offering a unique exhibition devoted to theatre craftsmanship and the Juliusz Słowacki Theatre (ground floor).

For over a hundred years, the building at no. 3 Radziwiłłowska Street served as a warehouse for costumes, decorations and props of the Municipal Theatre, in 1909 named after Juliusz Słowacki. It was built in 1896 according to the design by Jan Rzymkowski. Its modernistic façade and its location outside the Planty park line reflect its purely practical purpose, and are symbolically contrasted with the glamour of the main building of the Theatre modelled on the Paris Opera. The eclectic, impressively decorated building in the Holy Spirit Square, created by Jan Zawiejski, boasts an impressive interior, while the space of the House of Crafts has more of a functional character.


Every premiere is preceded by the labour of theatre artists and craftsmen, invisible to the public. They are part of the history of Polish theatre, though their names can never be found on posters. We know the names of actors, the author, director, set designer and the composer, but there are also dressmakers, dressers, carpenters, stage managers, soundmen, lighting professionals, grips, multimedia professionals and many others whose efforts are necessary to evoke emotions and reflections during a performance. Some professions previously closely connected with theatre activities, such as poster men, copyists and prompters are no longer performed today. After the reconstruction and revitalization completed in 2016, the House of Crafts is a place where visitors can get acquainted with the work carried out behind the scenes, under the stage, and in specialised theatre studios.


Theatre enthusiasts and everyone interested in the exhibition is welcome to visit the exhibition at no. 3 Radziwiłłowska Street:

From Tuesday to Friday: 12.00 – 5.00 p.m.

Saturday: 11.00 a.m. – 2.00 p.m.

Admission: 5 PLN

*  For ticket holders to the Juliusz Słowacki Theatre in Krakow and the Małopolska Garden of Arts admission is free of charge within one week from the date of the performance.