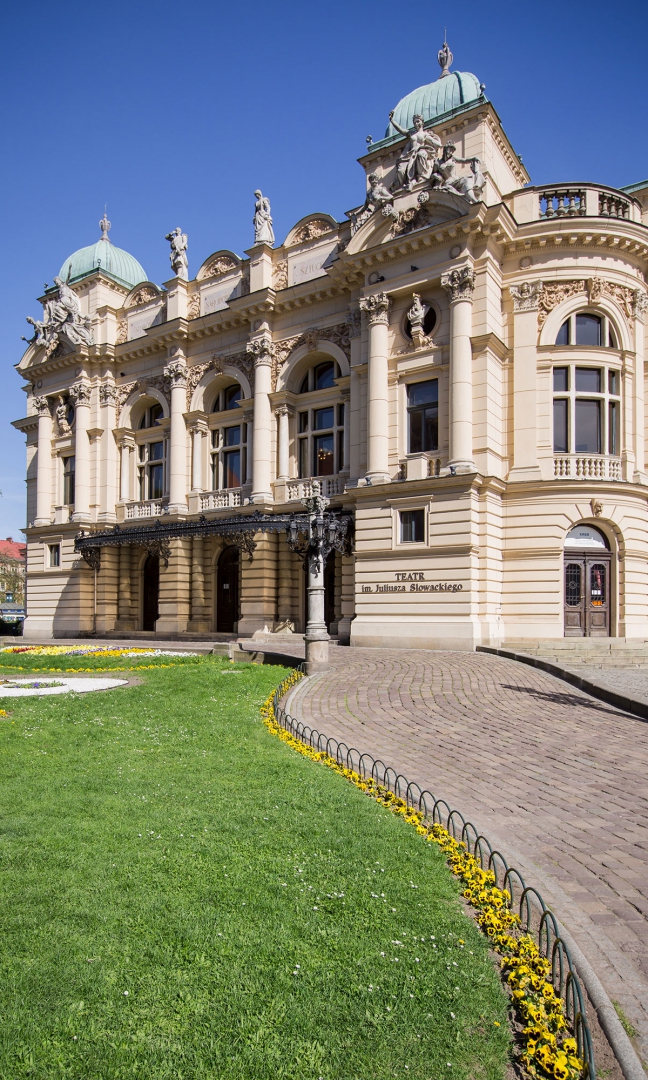 List of performances accessible for disabilities
Our institution provides care for all viewers, and we do our best to offer special care to people with disabilities.
Informacje dla poszczególnych grup
ACCESSIBILITY COORDINATOR
Accessibility for people with disabilities in our Theatre is the responsibility of Dominika Feiglewicz, a Polish Sign Language user.

Contact: feiglewicz@teatrwkrakowie.pl 

tel./SMS: 603 235 231 (Mon – Fri: 9 a.m. – 4 p.m.)
THEATRE WITHOUT BARRIERS
The Słowacki Theatre in Krakow is an institution that is open to the diverse needs of its visitors. Our special attention is paid to people with disabilities. Whenever possible, we take steps to extend the accessibility of our performances, meetings, workshops, as well as of the buildings belonging to the Theatre.
We are successively introducing performances with translations into Polish Sign Language, as well as audio description and subtitles. We wish to enrich our offer with workshops related to integrative theatre, awareness and theatre craftsmanship, which will be available for everyone. Our renovation plans for the upcoming years include the installation of a hearing loop, as well as the purchase of portable hearing loops (for the benefit of the hearing impaired).

The locations belonging to the Theatre include: The Main Building of the Słowacki Theatre (The Grand Stage, The Miniature Stage), the MOS Małopolska Garden of Arts, and the House of Theatre Crafts. Our aim is to provide full accessibility in all the above mentioned spaces.

See performances translated into Polish Sign Language >
The following Ticket Information and Reservation Office staff membersare trained to assist persons with disabilities:

Piotr Szczerba
Izabela Kościelny

tel. 12 424 45 28;12 424 45 25 (Mon - Fri: 9.00 a.m. – 4.00 p.m.)

e-mail: bilet@teatrwkrakowie.pl 

Please contact us at least 3 days prior to your visit to the theatre in order to discuss in detail our cooperation on the day of the performance.