Beginnings
The Juliusz Słowacki Theatre (formerly known as the Municipal Theatre) was built in the same way as some the most sacred of monuments were made. It was soon surrounded by its own legend. From its very beginning it had the status of a national theatre, and determined the directions for the development of the entire contemporary Polish drama. The edifice in the Holy Spirit Square [Plac Św. Ducha] has become one of the landmarks of the magical Krakow.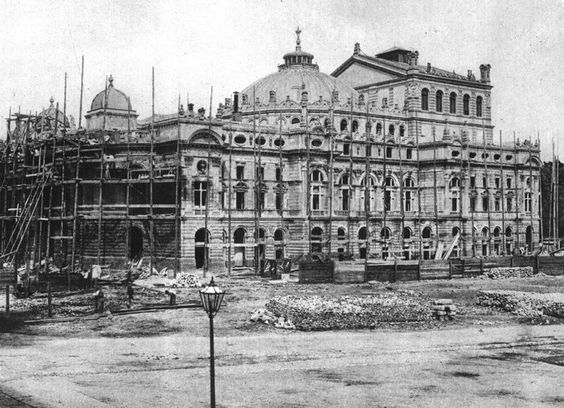 In 1866, when he assumed the position of the first Mayor of Krakow, Józef Dietl wanted the former capital of Poland, which was divided among the partitioning powers, to become a great national atelier that stood at the helm of the national economy. The process of renewal started with the regulation of the Vistula River, restoration of monuments, and tidying up of its streets. Jubilees were held, and monuments were erected in an atmosphere of patriotic elation. Krakow attracted numerous visitors, and for most of them visiting a theatre was a must. However, the only theatre in the city – in Jagiellońska Street – had an excellent company and great traditions, yet it did not meet the safety regulations and the growing expectations of the public. The construction of a new playhouse became a matter of great urgency.


In 1872, Walery Rzewuski – one of the pioneers of Polish photography – submitted a proposal to the City Council to build a theatre. A few years later, after in-depth consideration of the dilemma whether to build a theatre or a waterworks first, an international architectural competition was announced, in which the design of a Krakow-based architect – Jan Zawiejski – was selected. The fundraising began. The donations, including royalties from Helena Modrzejewska's performances, were more of a symbolic nature, but the most significant contribution was offered by Count Karols Kruzer of Podolia. The outstanding sum was settled by the municipality, the government, and the Krakow Savings Bank. After a heated debate over the playhouse location, a choice was made to situate it in the Holy Spirit Square, despite the fact that it already featured some historic buildings. The supporters of the so-called 'tidying up' of the city decided to remove them. Others, such as Jan Matejko, made attempts to save the charming spot. When his protests proved unsuccessful, the artist renounced his honorary citizenship of the city, and prohibited the exhibition of his paintings in Krakow.

The construction work began in March 1891, and the foundation stone was laid on 2 June 1891. 'Let this edifice be of practical use to the inhabitants of the city, and for the glory of dramatic arts,' said the Mayor of Krakow during the ceremony.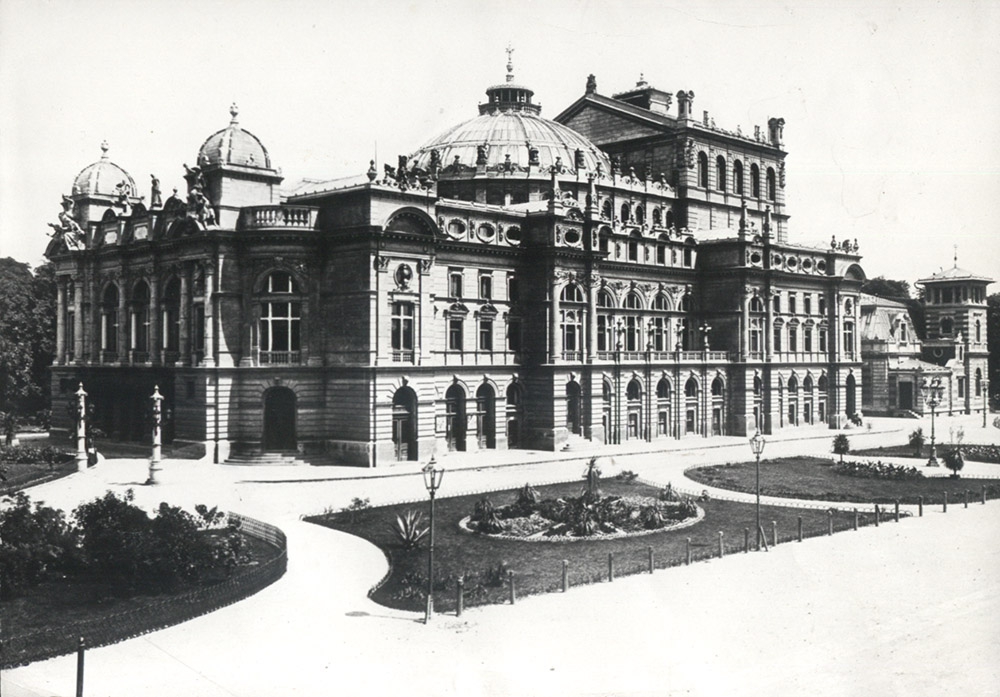 Municipal Theatre, 1893, Photograph from the Archives of the Juliusz Słowacki Theatre.
Two years later, on 21 October 1893, the Municipal Theatre in the Holy Spirit Square opened its gates. It was the first building in the city to have electric lighting – just behind it, on the Planty side of the playhouse, Zawiejski placed a small power-house known as the 'machine-house' (today's Miniatura Stage). By definition, the newly erected building was meant to be European, national and Cracovian. In meeting these requirements, and maintaining its eclectic form – which was fashionable in Europe at the time – Zawiejski made references to the architecture of Garnier's opera house in Paris and the Viennese opera. Above the entrance, he placed an inscription: KRAKOW FOR THE NATIONAL ARTS, while the ornamentation of the building included mascarons resembling the ones in the Sukiennice [Cloth Hall]. 'Any architect familiar with art will look at my design,' wrote Zawiejski, 'and immediately guess that it was a theatre for Krakow – a Krakow theatre!'
Text: Diana Poskuta-Włodek