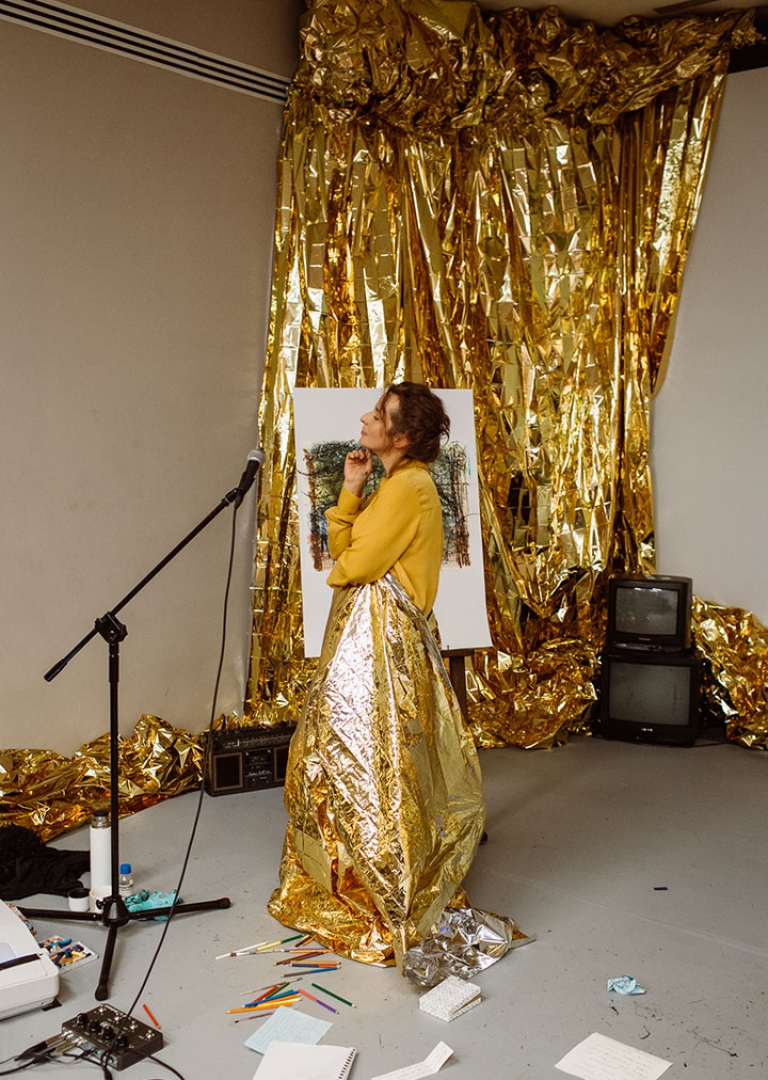 Three Women
120 mins, including one 15-min interval
Three female directors. Three actresses. Three perspectives on the life and work of Stanisław Wyspiański.

In her I'M LOOKING, LOOKING, LOOKING, Magda Miklasz is posing some questions: if you look at a painting closely enough, will you see a human being in it? How transient is art and inspiration? What are the paintings from which... the soul escapes? In I KNOW YOU LOVE WILTED FLOWERS, Renata Piotrowska-Auffret is taking a look at Teosia – the ailing artist's wife. How would she describe her memories of Wyspiański? How would she talk about his illness, his body? And in KONRAD'S ISOLATION WARD, Ewa Rucińska asks about the meaning of Liberation in the days of 'late Polishness'? In 2018, can we say that we are Liberated as a nation and society?

Three Women is an event combining theatre, performance, lecture and experimental choreography. It offers three intimate meetings with the Master.
I'M LOOKING, LOOKING, LOOKING...

Direction: Magda Miklasz
Concept and stage design: Magda Miklasz, Amadeusz Nosal
Dramaturgy and video: Amadeusz Nosal
Performer: Marta Waldera
Music: Magda Miklasz and Marta Waldera
Stage design assistance: Szymon Wierzchowski
Producer: Bożena Sowa 



I KNOW YOU LOVE WILTED FLOWERS

Concept, direction, choreography, texts: Renata Piotrowska-Auffret
Implementation and cooperation: Aleksandra Osowicz
Music: folk pieces, Marcin Janus
Costume and stage design: Katarzyna Fabińska
Consultant: Monika Śliwińska
Consultation and training (traditional Polish dances): Piotr and Bogumiła Zgorzelski
Producer: Izabella Oleś


KONRAD'S ISOLATION WARD

Direction: Ewa Rucińska
Visual setting, costume and props: Stefania Chiarelli
Producer: Izabella Oleś
Performer: Agnieszka Kościelniak

The three projects were initially created for the Labyrinth Called Wyspiański event, which was part of the Wyspiański Liberates festival.