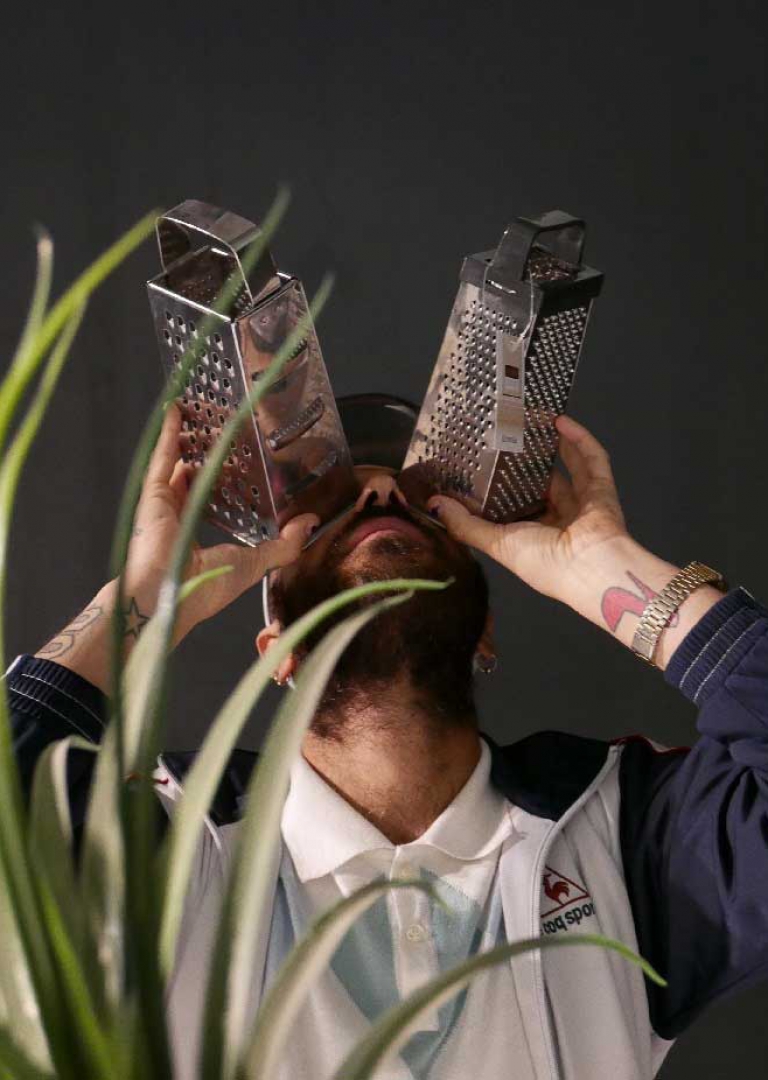 Kroki 2018 / Electrodomestics
Constanza Macras / Dorkypark
With urgent issues to be dealt with in nowadays Europe a fictitious band for 'domestic affairs' Electrodomestics investigates the domestic in the context of the household and relates it to the larger context of the domestic affairs within the ephemeral performance of glam-rock and of pop simplicity and immediacy. Literally different process of producing meaning and of communicating with audiences shall culminate in producing 'eating' settings, where the cabaret-like soirees of dining audiences could consume both ideas and food simultaneously.
Electrodomestics is a cooperation between choreographer and performance maker Constanza Macras and the Egyptian choreographer/performance theorist Adham Hafez. A ephemeral performance that aims at returning to the individual, through its series of songs and music performances delivered within accessible – and ridiculous – registers of expression and of experimentation.
Date → 14.05 (Monday)
Time  → 18.00
Miejsce → Lesser Poland Art Garden (MOS), Rajska 12
TICKETS → 12 PLN


Director and choreographer: Constanza Macras i Adham Hafez
Music: Almut Lustig, Kristina Lösche-Löwensen
Cocreate/coperform: Constanza Macras, Adham Hafez, Almut Lustig, Kristina Lösche-Löwensen, Miki Shoji, Sonya Levin.
Scenography: Chika Takabayashi
Video/sound/light/video: Kristaps Percevs
Director's assistent: Felipe Amaya
Production: Constanza Macras | Dorkypark
Coproduction: KRoki – International Contemporary Dance Festival (Kraków, PL) and  NATIONALES PERFORMANCE NETZ (NPN) – Coproduction Fund for Dance (DE).
Constanza Macras was born in Buenos Aires, Argentina, where she studied dance and fashion design, at the Buenos Aires University (UBA). She continued her dance studies in Amsterdam and New York (Merce Cunningham Studios). In 1995, Macras moved to Berlin and danced for various companies. In 1997, she founded her own first company and in 2003 she founded Constanza Macras | DorkyPark. She creates life music performances that combined artists from various disciplines. Constanza Macras received the Goethe-Institut Award for an outstanding German production for her piece HELL ON EARTH. She was also awarded the national German theater-prize DER FAUST for best choreography for the piece MEGALOPOLIS. In 2017 she coproduced with Kroki Festival performance Electrodomestics.