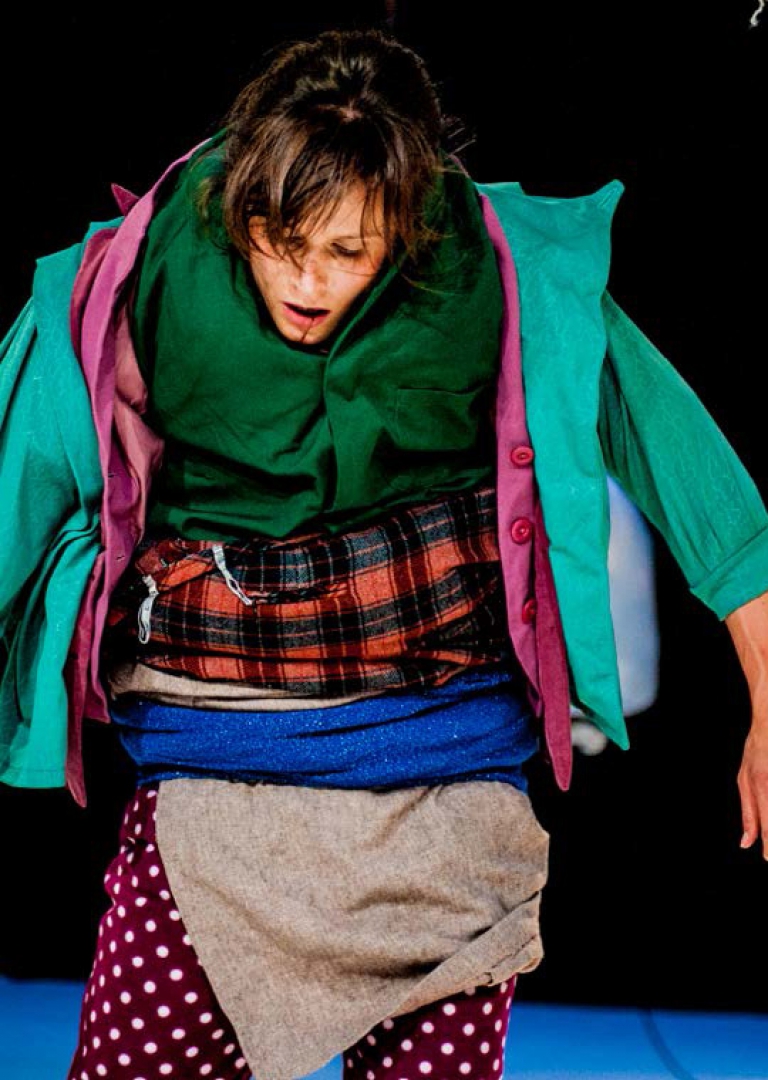 Kroki 2018 / Europe. Inquiry
Magda Jędra, Weronika Pelczyńska, Iza Szostak
Poland: 24 thousand second-hand shops. Europe: 120 thousand clothing companies. World: 4 million hands sewing clothes in Bangladesh.
Three artists invite the audience to visit a gigantic European thrift shop full of second-hand fantasies and worn out dreams about the future. The artists use this collage of improvisation and network of visible and invisible connections to analyze the relations between the far, the global and the personal.
They performatively investigate the future of Europe. How expensive are joint actions? How can a partner turn into an obstacle? When do the values turn into obsessions? 

This performance tells the story about unexpected consequences of joint work, of collective actions, of how the haven turns into a form of oppression, and how the scary turns into the funny. 
The project is supported by the Ministry of Culture and National Heritage and the Office of the Capital City Warsaw, with the support of the Foundation Burdąg Centre in Movement, Capital City District Office Wawer Warsaw.


Date → 18.05 (Friday) 
Time → 20.30 
Place → Lesser Poland Art Garden (MOS), Rajska 12
Tickets → normal - 40 PLN / reduced -  30 PLN

Choreography / performance: Magda Jędra, Weronika Pelczyńska, Iza Szostak
Dramaturgy: Agata Szczęśniak
Scenography: Wojciech Pustoła  
Lighting design: Karolina Gębska
Lights: Karolina Gębska,  Michał Głaszczka
Producent: Komuna// Warszawa
Premiere: 11 lipca 2014

Magda Jędra – dancer, choreographer, performer. She started dancing at the Gdańsk Dance Theatre run by Melissa Monteros and Wojciech Mochniej. Recently she has cooperated with Ramona Nagabczyńska and Rafał Dziemidok, she forms the Good Girl Killer ensemble with Anna Steller. Her performances are close to the concept of performance art and the site-specific movement. Improvisation is for her the basis for the creative process. She enjoys mixing up diverse styles and means of expression characteristic for both "pop" and "high" culture. She teaches improvisation and modern dance techniques.

Weronika Pelczyńska –  independent dancer and choreographer, cooperates with dance groups in Poland, Germany and Austria. She works on solo shows (Yvonne, Yvonne – RE//MIX; Fruit of Inspiration to Witold Lutosławski's music), creates choreography for theatre and film. She is interested in work on the borderlines of different arts. She is a co-founder of Warsaw's Centre-in- Movement (Centrum w Ruchu). She has received the DanceWeb 2013 (ImpulsTanz) and Carte Blanche 2013 (Modul Dance) scholarships. Graduate of SEAD in Salzburg and Warsaw Technical University.

Iza Szostak – dancer, choreographer. In her practice she draws on authentic movement, choreology and Forsythe's improvisation. For several years she has worked with non-dance professionals. Internee at the Jan Fabre/ Troubleyn company, she has held scholarships from the Polish Ministry of Culture and National Heritage, Corrie Hartong Fonds of the Netherlands, the international project for young choreographers SPAZIO and Solo Project Art Stations Foundation. She is a co-founder of Warsaw's Centre-in- Movement (Centrum w Ruchu). Graduate of the Warsaw Ballet School and Codarts/Rotterdam Dance Academy of the Netherlands. Student at the Ethnology and Antropology Institute of the Warsaw University.