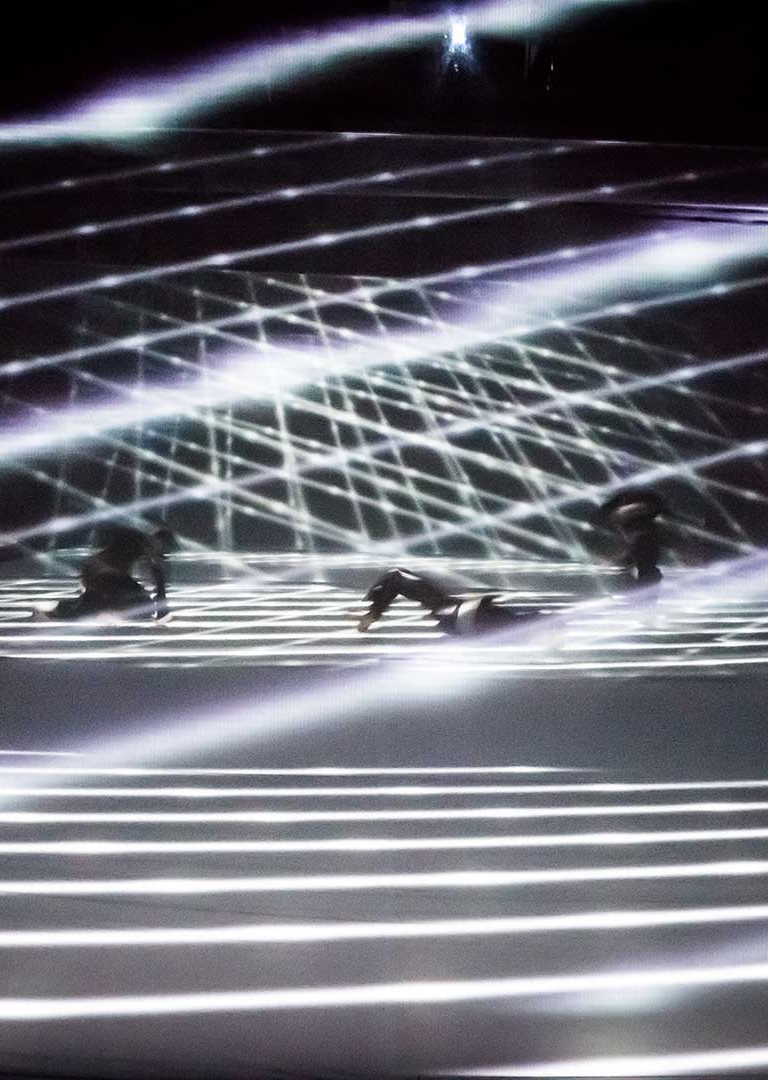 Kroki 2018 / Spectral layers of movement
Around Centre Group
MOS The Małopolska Garden of Art - The MOS Stage
NOTE! There is a strobe light used in a spectacle.
The interdisciplinary project combining the world of dance, multimedia and sound in a multi-layered interactive installation in which each element is equal. It is a glance at the movement through the prism of technology and technological processes with music and interactive live projections. The project is a peculiar laboratory that changes the stage into the space of artistic research. The leitmotif is to show the movement qualities in the projection layers filled with transformations, referring with its character to the different technological epochs, in particular to the retro culture of the last century 80s and 90s.
Idea: Marcin Janus, Grzegorz Kaliszuk
Concept: Marcin Janus, Grzegorz Kaliszuk, Around Centre Group – Agata Moląg, Monika Świeca, Marta Wołowiec
Choreography/dance: Around Centre Group
Media design: Grzegorz Kaliszuk/Wojciech Miler
Music: Marcin Janus


Date → 17.05 (Thursday) 
Time → 20.00 
Place → Lesser Poland Art Garden (MOS), Rajska 12
Tickets  → normal 35 PLN / reduced 25 PLN 

Marcin Janus – sound and new media artist, electro and electroacoustic music composer. In the creative process, he focuses on the timbre of sound, explores its basic features, often looks for reflection in movement and image, gives issues new meanings by connecting them in musical spaces.

Grzegorz Kaliszuk - IT specialist by education, passionate creator of multimedia interactions. He creatively combines artistic vision with the possibilities of various hardware and computer programs, creating unique interactive installations.

Around Centre Group – artistic collective, working within the Krakow Choreographic Centre. The core of the Group are dancers: Agata Moląg, Monika Świeca and Marta Wołowiec. The collective produces its own performances, collaborates with artist from Poland and abroad in the art projects, takes care of the KCC's events and conducts regular classes of contemporary dance.