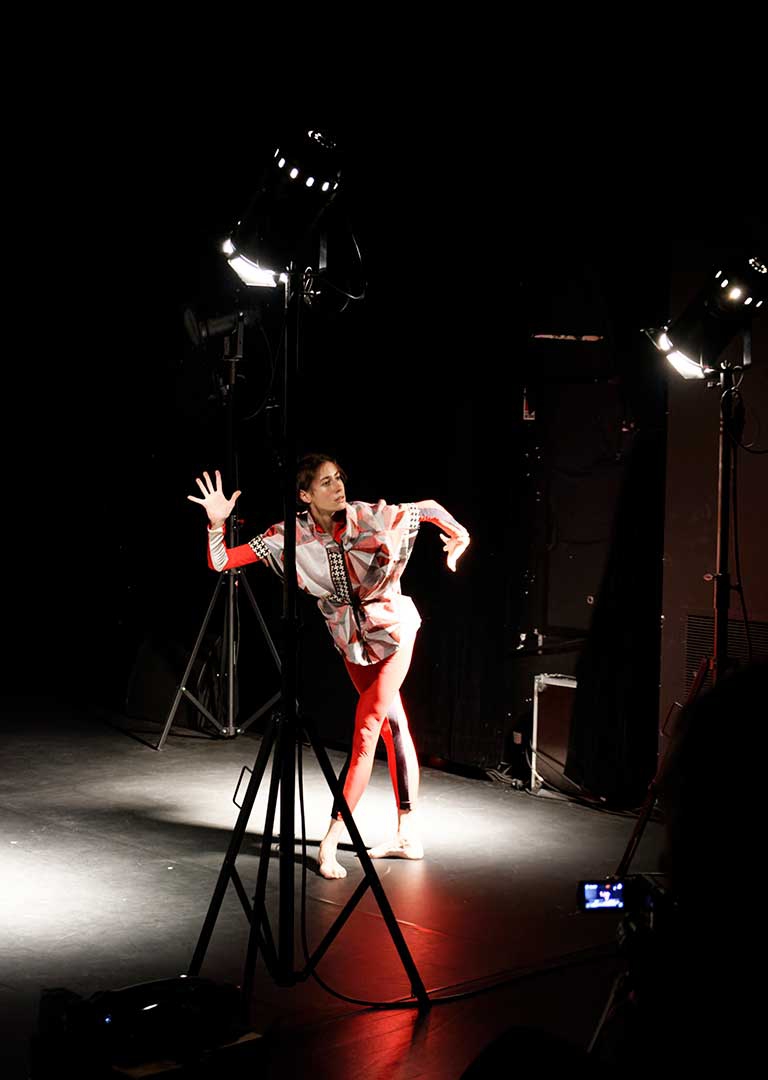 Kroki 2018 / Still Life
Agata Maszkiewicz (Francja / Polska)
Still life is a piece that focuses on our relation with objects and things. In a performance-long interview, Agata Maszkiewicz together with Vincent Tirmarche bring into life the stories of Jenny, Marco, Alex and Emmy.  As a response to that, a dancer on stage is dealing with the surrounding, the nature of things and death.
Avoiding the real presence of any object on stage, she plays with the notions of becoming, adjusting, discovering, appearing, redoing, creating. Her body replays, acts, repeats, gets still, restarts, rests. The dance choreographed together with costumes, the light, the sound and the videos, manages to create a still-life in itself.


Date → 15.05 (Tuesday) 
Time → 20.00
Place →  Lesser Poland Art Garden (MOS), Rajska 12
Tickets → normal: 30 PLN / reduced: 20 PLN


Idea/choreography/dance: Agata Maszkiewicz
Video/dramaturgy: Vincent Tirmarche
Lights: Henri Emmanuel Doublier
Costumes: Sofie Durnez
Music: Wouh Nicolas Jaar, Gosh Jamie XX
Original music: Goneril & Coccon/Christophe Demarthe; remiks Vincent Tirmarche
Sound design: Goneril
Production: teatr L'Avant-Scène Cognac, Francja
Co-production: Maison de la Culture Amiens/Francja, Art Stations Foundation, Poznań
Residency: BUDA Art Center Kortrijk/Belgia: with a support of: DRAC Nouvelle-Aquitaine/Francja - help for project 2017 and collective SUPERAMAS
Premiere: 12&13 października 2017, festiwal Konfrontacje Teatralne, Lublin

Agata Maszkiewicz is a choreographer, performer and a dancer. Born in 1981 in Poland. Lives in France, in the region of Nouvelle-Aquitaine. Since "still life" an associated artist of l'Avant Scene Cognac. In October 2009 she graduated Institute of Dance Arts at the Anton Bruckner Privatuniversitaet in Linz, Austria (Master of Arts M.A.). Before starting professional education in a field of dance she was a student of Applied Social Sciences at the University of Warsaw. She is a recipient of the DanceWeb 2006 scholarship program. From January till June 2007 she continued her education in the Centre Choreoghraphique National (CCN) in Montpellier as a participant of the ex.e.r.ce program (under the guidance of Xavier Le Roy).She works, among others, with a collective Superamas (Viva l'Armee, You dream, BIG3 happy/end, Casino). Ivana Muller (60 minutes of opportunism) and creates her own work (installation snowflakes, solo POLSKA, performance Don Kiewicz & Sanczo Waniec). She collaborated with Anne Juren, Marian Baillot and Alix Eynaudi on the piece Komposition. Together with Alix Eynaudi, she created a video-performance The Visitants and later on, a piece Long long short long short. With her piece Duel she was a supported artists by the MODUL DANCE program.
www.agatamaszkiewicz.com

Vincent Tirmarche born in 1965, lives in France. Between 1986 and 1989 he studied Cinema and Literature (Master and DEA) at the university Jussieu PARIS 7, and in 2002, Digital Arts (DEA) at l'Ecole Supérieur de l'Image, Angoulème, France. Video and Film maker, musician, & performer, he worked and collaborated in France on many theatrical projects since 1988. Since 2000, he is member of the French/Austria collective SUPERAMAS. He collaborates with Agata as a dramaturg and video maker since her first solo project, POLSKA.