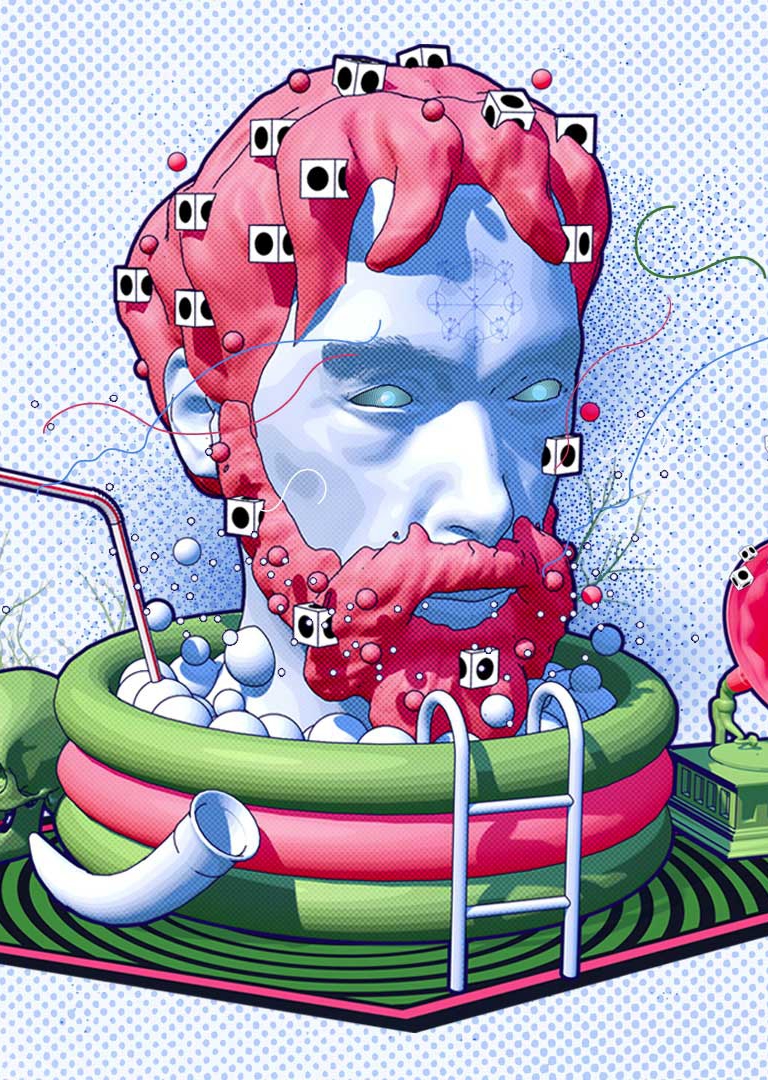 THE LABYRINTH called WYSPIAŃSKI
MOS The Małopolska Garden of Art - The MOS Stage
Free entrance upon the presentation of passes (to be collected at the Theatre).
This project creates a unique opportunity to get lost or find oneself in the labyrinth of theatrical stages, music, multimedia and installations inspired by the all-encompassing world of Wyspiański. For several hours, the Rajska Street Stage will serve as an escape room, a multidimensional experience, a combination of themes and energy, organically inscribed in almost all the rooms of the building.
Experiment? Yes! A surprise? Yes! New experiences? Yes! We invited the following artists to create this artistic apocrypha : Magda Miklasz, Małgorzata Warsicka and Sandra Szwarc, Ewa Rucińska, Joanna Zdrada and Renata Piotrowska-Auffet. These women will form a new perspective of looking at Wyspiański, inspired by the texts of the artist's dramas, paintings, as well as his sensitivity.

We realise that he was a total artist and we know how difficult it is to classify him in the academic discourse. We want to discover Wyspiański's 'new body', look for energy that is closer to emotion and rhythm than to rhetoric. This time it won't be a lesson with Wyspiański, but more of a trance with the Master.
1. WANDA
Project directed by Małgorzata Warsicka, featuring text by Sandra Schwarz and music by Karol Nepelski.

The starting point of our part of the project is 'The Legend' by Stanisław Wyspiański – the first dramatic work of a young painter-drawer, which was conceived not as an ordinary stage text, but as an opera libretto. Already in this early work one can easily acknowledge his incredible staging brilliance (young Wyspiański decided to set some of the scenes under water), a plethora of metaphors and symbols, and – what is significant – a unique connection between the real world and the metaphysical realm. 'The Legend' would never have been created if Wyspiański hadn't discovered Wagner's operas during his trips to Munich. Inspired by the innovative concept of art synthesis, the painter decides to widen his artistic path and begin writing for the theatre. Thus begins the transformation of Wyspiański-the painter into Wyspiański-the playwright.


Text: Sandra Szwarc/Stanisław Wyspiański
Direction: Małgorzata Warsicka
Music: Karol Nepelski

Cast:
Hanna Klepacka – pianist (guest performance) 
Anna Paruszyńska
Marcin Kalisz
Tadeusz Zięba

__________


2. I'M LOOKING, LOOKING, LOOKING...
Project directed by Magdalena Miklasz

If you look at a painting closely enough, will you see a human being in it?

By combining a performance, a lecture and journalistic investigation, we embark on a mystical journey that begins in the dusty corridors of the Krakow museum and leads us through the history meanders of our city and art. In the play, we bring back the spirits of the past and seek answers to questions about the transience of art and inspiration – is an artwork alive as long as its creator lives? What are the paintings from which... the soul escapes?

We'll put away the painting textbook and a museum pass for a moment, and in the basement of the Małopolska Garden of Art we will try to get to what is not mentioned in the books, and read the message hidden in the paintings with the help of yellowed letters and dried blue paint.

Who was Stanisław Wyspiański in reality, in isolation from his Krakow legend? What did the voice that inspired him to create tell him?

'I'm Looking, Looking, Looking', is above all a play about what is ephemeral and hidden; about faded canvases and sleeping demons.

Direction: Magda Miklasz
Concept and stage design: Magda Miklasz, Amadeusz Nosal
Dramaturgy and video: Amadeusz Nosal
Music: Magda Miklasz and Marta Waldera
Stage design assistance: Szymon Wierzchowski

Cast:
Marta Waldera 

__________

3. LIBERATING THE WOMANHOOD, OR WYSPIAŃSKI'S LEGEND OF WANDA AND HER SISTERS
Project directed by Joanna Zdrada

The drama excerpt 'The Queen of the Polish Crown' is also one of Wyspiański's first dramatic texts. Joanna Zdrada, the director of the musical performance 'Liberating the Womanhood, or Wyspiański's Legend of Wanda and Her Sisters' is interested in Wyspiański's sensitivity to women's issues. The legend of Wanda, who did not want to marry a German, circulates in numerous versions as one of the founding myths shaping our national imagination. What seems symptomatic is that it is based on resentment towards strangers, and the title female figure bears the hallmarks of a desperate woman who throws herself into the depths of the Vistula River. Wyspiański suggests a different version of this story. By adding his Wanda to the circle of Vistula Nymphs, Undines and Witches residing in the muddy bottoms of the Vistula River at the foot of the Krakow castle, he tells a story of the liberation of women. Wyspiański's Wanda speaks with the voice of those who demand subjectivity. He reverses the established order. King Krak's humble daughter turns into an ardent Mater Polonia. Her death in the Vistula River is a metaphor for the female sacrifice for independence.

Script: Joanna Zdrada, Jolanta Denejko
Direction, stage design, costumes: Joanna Zdrada
Music: Martyna Biłogan
Stage and costume designer assistant: Bernarda Ambroża-Urbanek

Cast:
Pola Błasik – Wanda
Agnieszka Judycka – Łopuch and Wiślanka, person from the crowd
Karolina Kazoń (Karolina Casogne) – Laughter and Undine, person from the crowd
Marta Konarska – Mother
Hanna Bieluszko – Żywia, Cosmic Queen Mother and Old Wanda
Katarzyna Zawiślak-Dolny – Rudawianka, person from the crowd
Martyna Biłogan – Harper, person from the crowd
Joanna Zdrada – King Krak's voice
__________


4. KONRAD'S ISOLATION WARD
Project directed by Ewa Rucińska

What does Liberation mean in the days of 'late Polishness'?
In 2018, can we say that we are Liberated as a nation and society?

'Konrad's Isolation Ward' is a project on the border of monodrama and performance. The viewers are invited to enter the space of the isolation ward and to participate in a meeting with the Protagonist. Apart from its interactive formula, this meeting also has a symbolic dimension: entering the world of thoughts, questions and accusations from Liberation. It is thus a rare opportunity to respond personally to Konrad's appeals, to discuss Wyspianski's ideas on the spot, and to reflect on their timeliness. 

Group entrance to the performance in the Isolation Ward at designated times. The performance will last approx. 30 minutes depending on its course and the participants' will.

Direction: Ewa Rucińska
Visual setting, costume and props: Stefania Chiarelli

Cast:
Agnieszka Kościelniak
__________


5. 'I KNOW YOU LOVE WILTED FLOWERS'
Project directed by Renata Piotrowska-Auffet

Wyspiański's disease was considered a taboo for many years – just like his bond with his wife. His illness had always accompanied their relationship. It was a union of two people that oscillated between life and death, between spontaneous action and attentive observation. How would Teosia describe her memories of Wyspiański? How would she talk about his body? What universal element, pertaining to us nowadays, could constitute the content of such notes? Teosia's fictitious memories of Stanisław, his body and his illness form  the main axis of the performance. The texts strictly refer to the fragmentary knowledge that can be acquired about the Wyspiańskis on the basis of testimonies of their family, friends and doctors.


'I Know You Love Wilted Flowers' is an intimate meeting with the Wyspiańskis. It is a mosaic of words and movements juxtaposing Stanisław's body and Teosia's body, a modernized story told by the wife about her husband, during which the text is interwoven with movement, and the process of decay and death of Wyspiański's body – with the process of wilting flowers.


Concept, direction, choreography, texts: Renata Piotrowska-Auffret
Implementation and cooperation: Aleksandra Osowicz
Music: folk pieces
Costume and stage design: Katarzyna Fabińska
Consultant: Monika Śliwińska
Consultation and training (traditional Polish dances): Piotr and Bogumiła Zgorzelski

__________

6. HAMLET
Project directed by Radosław Stępień

'Carrying the truth within oneself, one reads the truth from people's faces.

Hamlet is the truth, so he reads the lies from faces and judges.

Shakespeare has this gift, and casts actors in the role of judges.'

 
Let's cast the actors in the role of judges. Let the most important text about what there is to think about in Poland – Wyspiański's Hamlet – serve as a mirror in which we – the artists, we – the Polish intelligentsia, we – Krakow, can see our own reflection.

What will we turn out to be like when we look at each other through Hamlet's eyes – eyes of a poor boy with a book, but also of an avenger, a 'servant of truth'?


Direction: Radosław Stępień
Dramaturgy: Konrad Hetel
Video, projections, visual setting: Natan Berkowicz
Music: Nikodem Dybiński

Cast:
Dominika Bednarczyk
Mateusz Bieryt
Karol Kubasiewicz
Marcin Sianko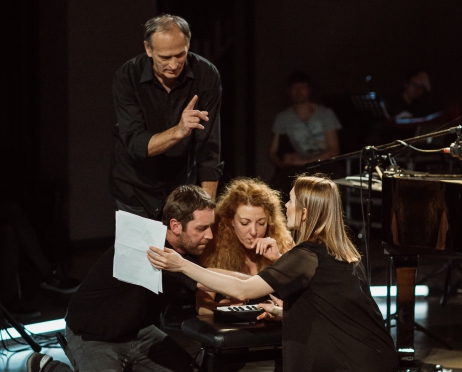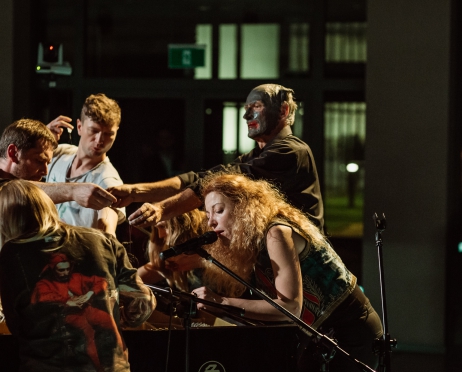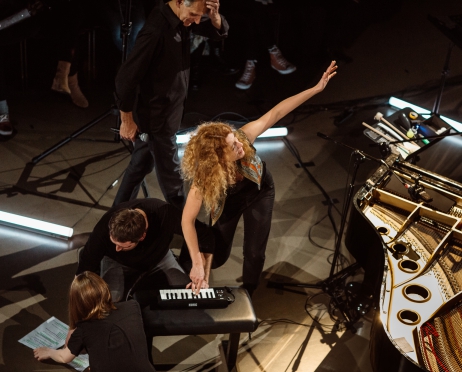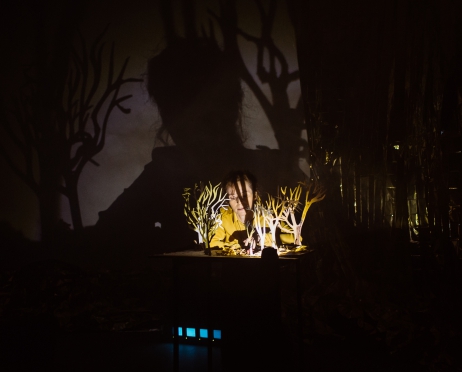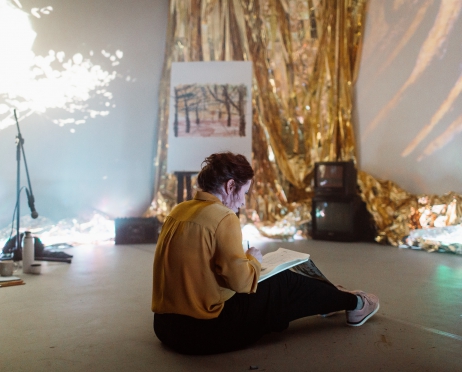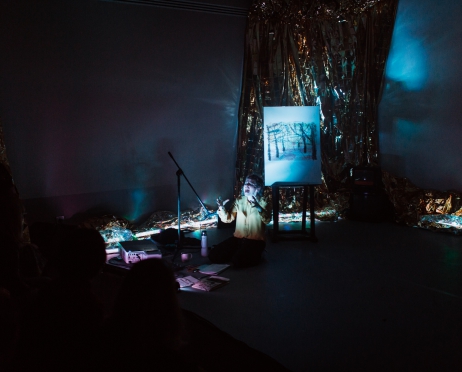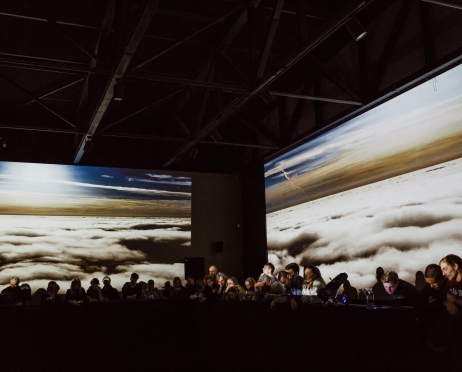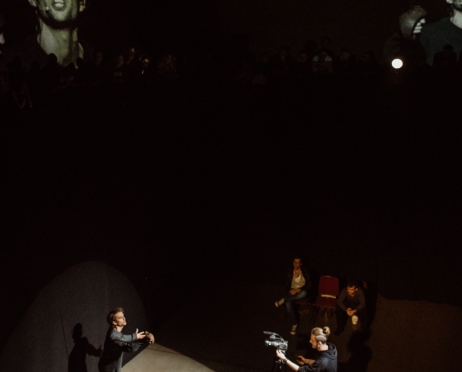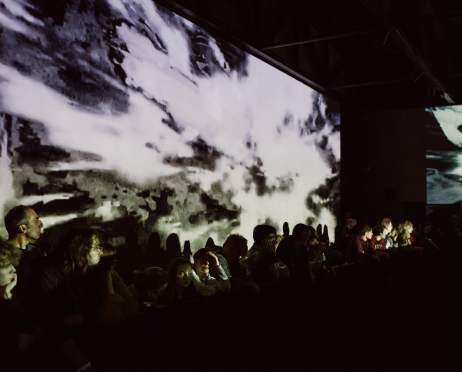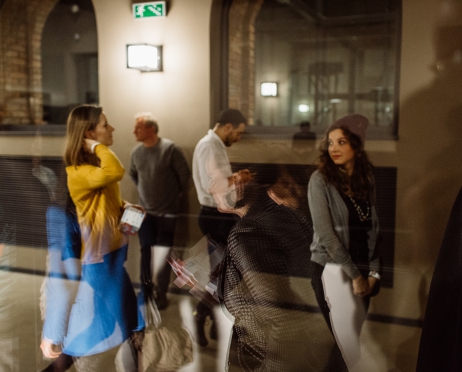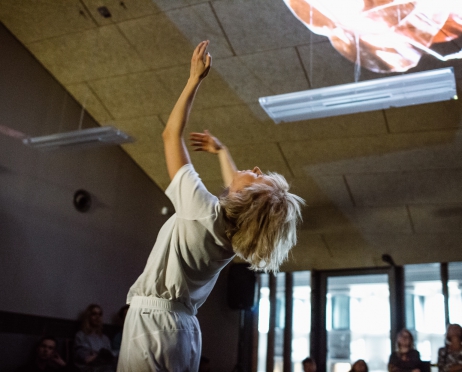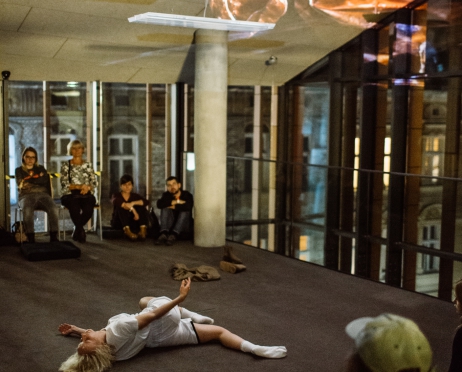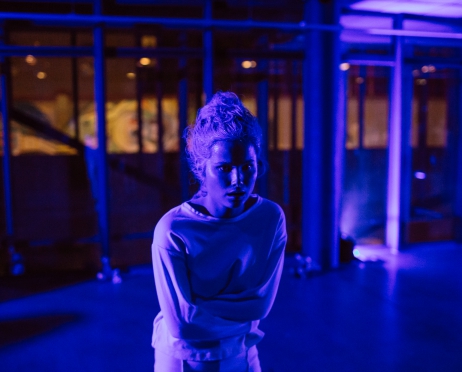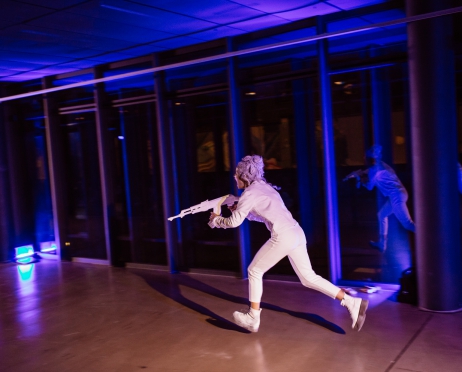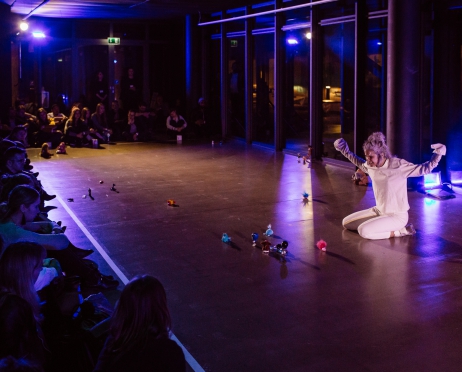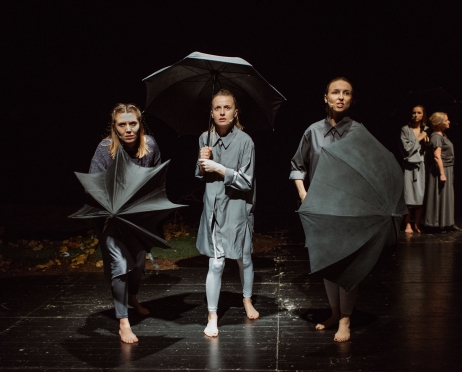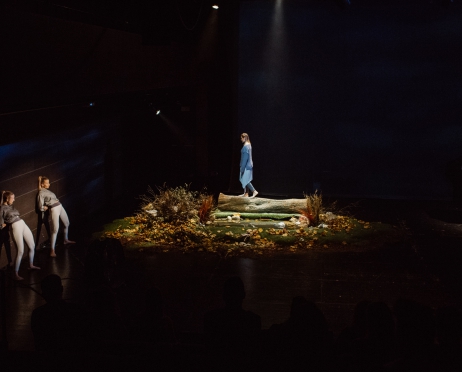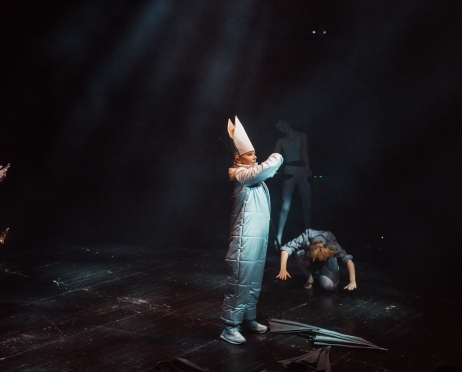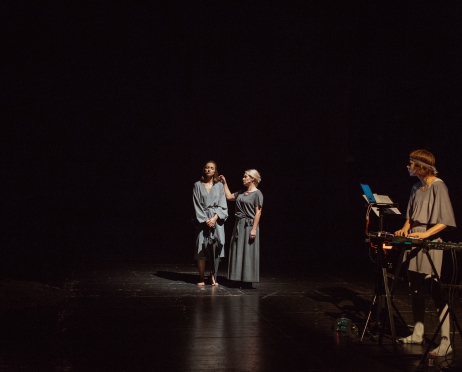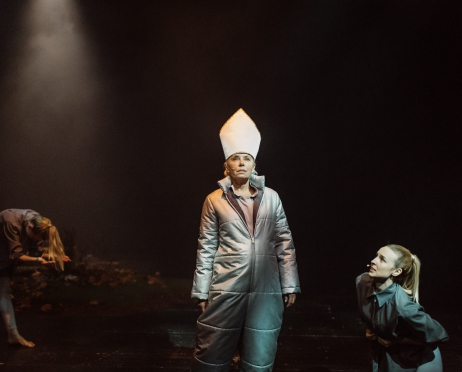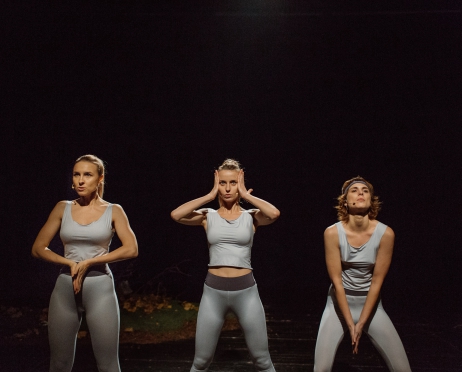 The project was financed by the Krakow Municipality and the Ministry of Culture and National Heritage.